Since 1995, Lionel has been conceptualising, writing, producing, directing and even directing TV programmes and shows across all genres and formats! Some of his most current works are:
Culture Shock
Season 1 & 2 (2007, 2009)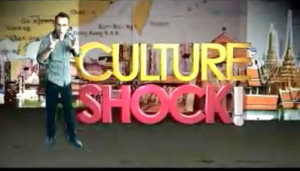 Inspired and loosely based on the very famous book series by reputed publisher Marshall Cavendish which has seen circulation in the tens of thousands, CULTURE SHOCK! Seasons 1 & 2 – features in-depth cultural practices, traditions and even idiosyncrasies of 6 different Asian countries and its people. Hosted by the Nick Cheadle – both Seasons 1 & 2 have found distribution all over the world!
Opening Titles
[oY6iV-7N7wM]
Culture Shock Trailer 1
[Mp3tfjIfSuE]
Culture Shock Trailer 2
[K0k31raVc1g]
Scene City Singapore

A 8 episode TV series that explores a city or suburb through the lens – with photography Expert and Host Tom Ang! Discover a side of the place you thought you always knew, and find the extraordinary in the ordinary, uncover adventures where you least expect them – all with cameras in hand!
Winner of the Bronze World Medal in New York Festivals 2010, Scene City Singapore has also been distributed worldwide – namely: The Sundance Channel in the U.S.
Scene City Singapore Trailer
[ZOLzfZ6Lpew]
Scene City Singapore in the News
[uYeBgOGEbck]
For more of Lionel's broadcast portfolio and other works:
Listen to Our Walls Episode 1
[_whNyiLzHrg]
Eco Gone Mad!
[WH2SWi3Mlq8]
Start It Up!
[0HAXq01cli4]